Network Connection
On the rear of the M-1610 Pro, two RJ45 connectors labeled NET (PRI) and NET (SEC) provide ethernet connectivity. The supported link speed is 1 Gb/s for AVB.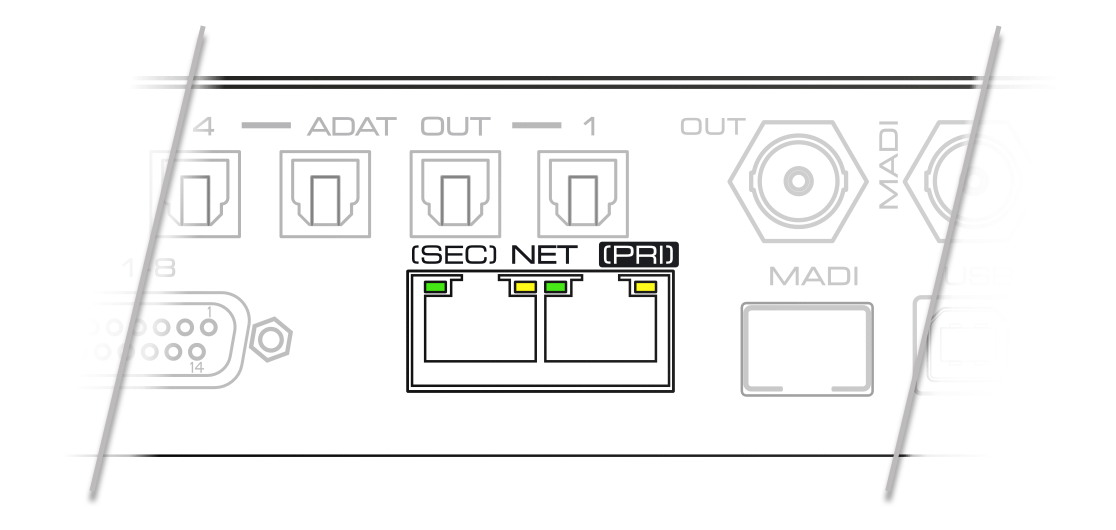 A green LED (left) signals network traffic (blinking). A yellow LED (right) signals a successful link.
Both straight and crossover cables can be used (Auto MDI-X). Cable lengths of up to 100m are supported when using Cat 5e or higher classification.
The network ports are used to send and receive:
up to eight AVB audio streams when connected to AVB switches and endpoints,

remote status/control with AVDECC, and

remote status/control with HTTP over IP routed networks.
The current link state is also shown on the display of the M-1610 Pro.
Two network port icons on the standby screen reveal the following states:

| | |
| --- | --- |
| Icon | Description |
| | No link - cable not connected |
| | Negotiating link with other endpoint |
| | Link with speed of 100 MBit/s (not supported for audio streams) |
| | Successful link with speed of 1 GBit/s |